Morale Boosters. Stress Reducers. Productivity experts. Studio Center's Doggos are the "pick of the litter".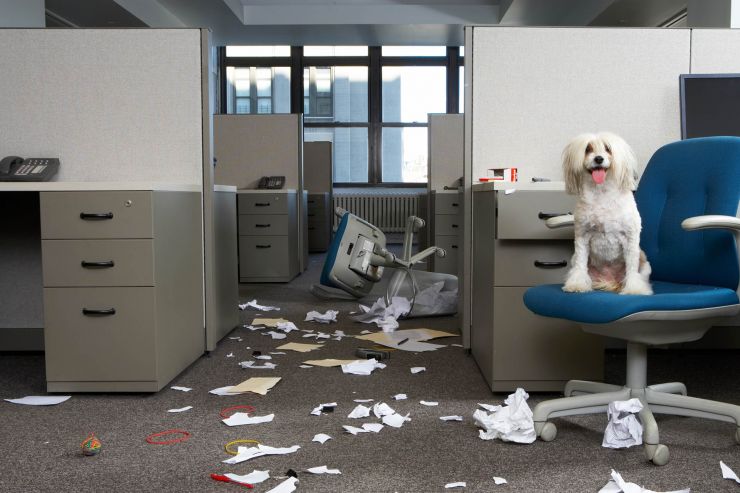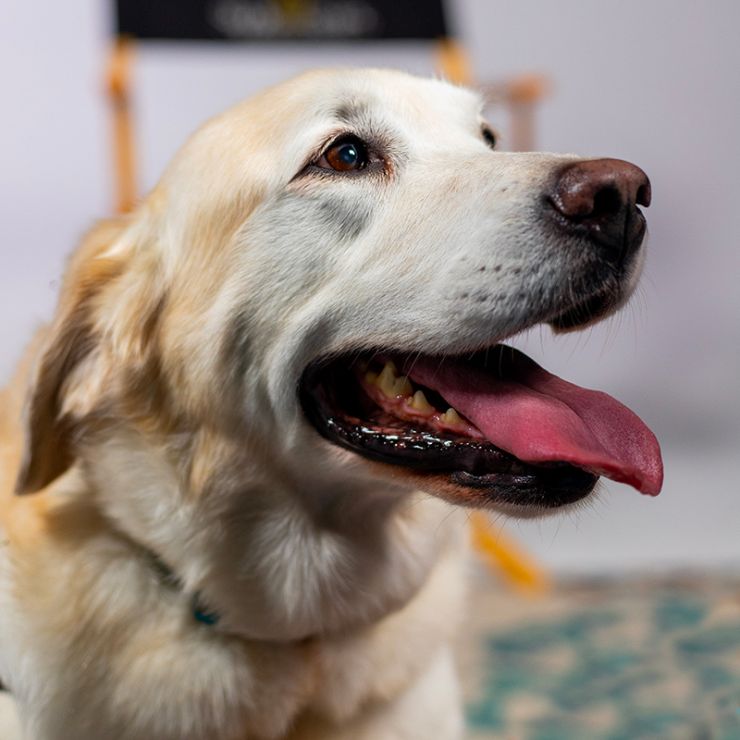 Annie
Annie and Max (pictured below) come from a mixed family of Golden Retrievers and Golden Labradors and hail from far away Knotts Island. In the fall of 2010, they were both adopted by the Whitaker family, have lived in Norfolk ever since and are contract employees at Studio Center (voice talent).
Don't be deceived by her sweet face, Annie is the instigator of the two. She will initiate the trouble and run off to leave Max holding the bag.
She loves everything and everybody except thunder and lightning. Annie has been known to claw everything out of the bottom of a night stand and try to fit herself in it.
She is all about hugs, snuggles, taking a walk and treats. In fact, she plays this game where she begs to go out then turns around and wants to come in and get a treat. Obviously thinking, "Look, I came back, don't I get a treat?"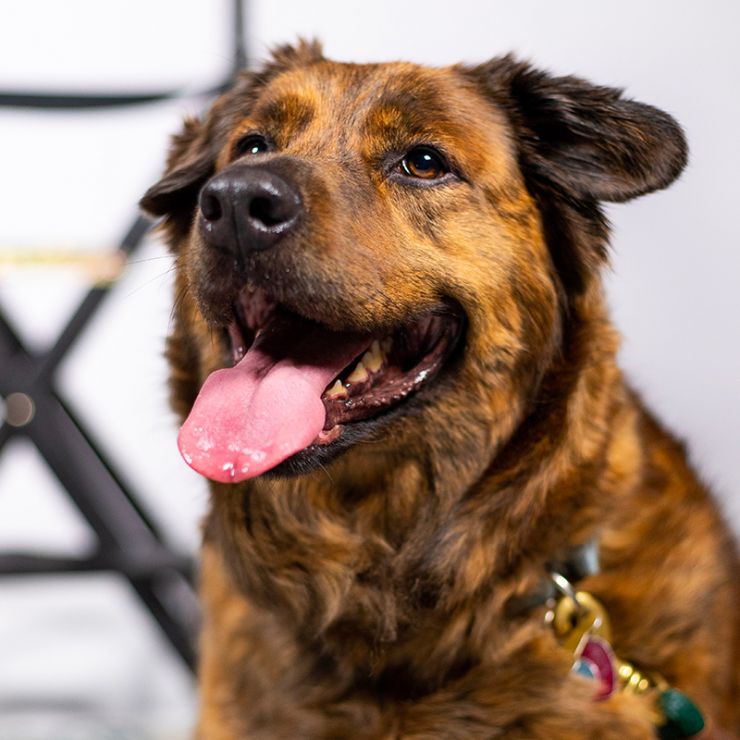 Brutus
Brutus is a German Shepherd, Lab, Beagle, Saluki mix born January 2014, in Bertie County, NC. Brutus' primary responsibilities include standing guard at the main entrance of 161 to ensures the property is free of squirrels, mice, and birds. He takes the most pride in protecting our sidewalks from his sworn adversary, the Canadian goose.
Though Brutus hails from a long line of classically trained guard dogs, he takes a more roundabout approach to his guarding duties. Relying heavily on his instincts and natural abilities, he brings a unique perspective to the team. Sporting a fierce work ethic, Brutus would be on call 24/7 if not for good BBQ and the rare nap.
If Brutus had his way, all of the TVs at Studio Center would only ever play Animal Planet with acceptance of the occasional western to shake things up.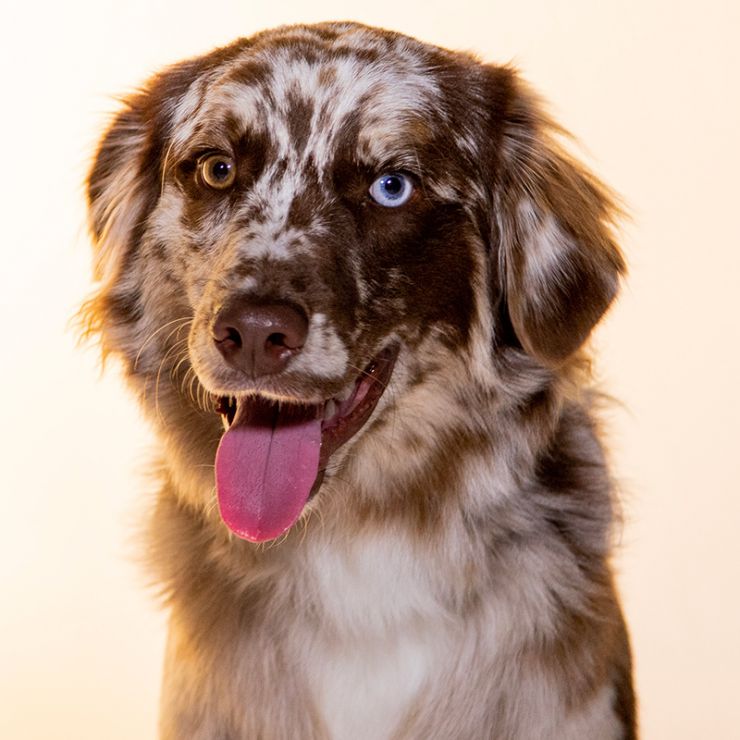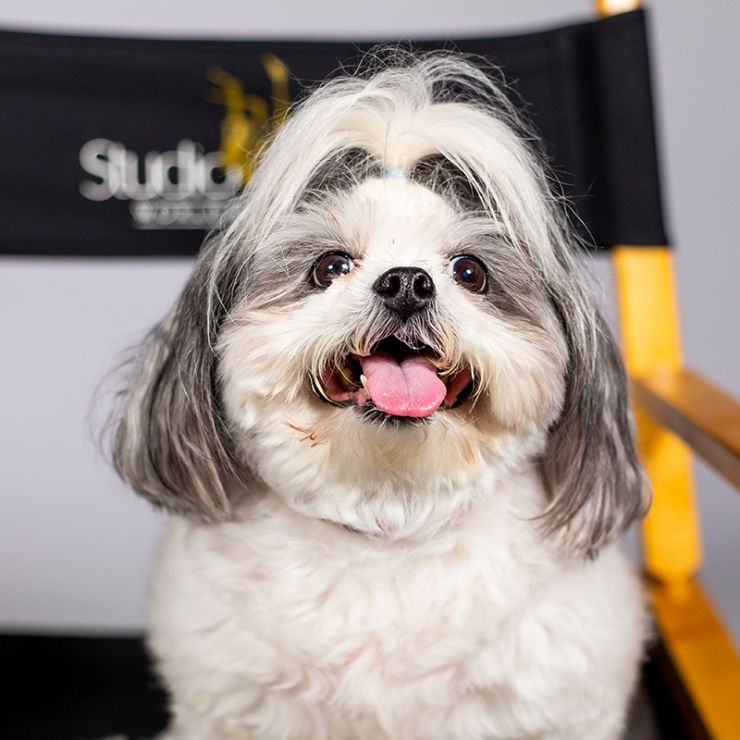 Jersey
Hi, my name is "Jersey-licous" MooCow Lakes or "Jersey" for short. But my mom, Lanley, has a long list of nicknames for me.
Stop it, Jersey.
Be quiet, Jersey.
Ok, Mariah. (As in Mariah Carey)
Leave the cat alone, Jersey.
Jersey-BooBoo.
That's not your toy, Jersey.
Gummy.
Just to name a few.
More about me other than my many names...I am a nine-year old PomShiht (Pomeranian Shih-Tzu) born in Portsmouth, VA and raised in VA Beach, VA. My mommy and best friend is Lanley. She's an Account Manager here at Studio Center. She likes to bring me to work with her and I like it when I get to go with her. I get so many belly rubs and treats from all my friends at Studio Center. I even have them trained now! My favorite thing to do at Studio Center is to go exploring and meeting new people. I wish they would understand when I am "talking" I just want cuddles and rubs. I won't bite. Promise. I just love that I get to be with my mom. If I am not exploring, you'll find me napping in her lap.
When I'm not going to work with my mommy, I just lay around the house watching music videos, General Hospitals or Sponge Bob. If my cat-sister is in charge, we usually have to watch one of the Housewives series.
I love to go for car rides. Our favorite place to visit is Dunkin' Donuts. We go there every morning. They know us so well there they even give me a cake munchkin for being so cute. (The tongue gets them every time!) I also like to visit the beach and run on the sand. It's so cool on my feet and mommy lets the leash out as far as possible for me to be "free." But I am not a fan of the water. It's so scary for such a small pup like me.
My favorite foods I like to snack on are watermelon, sweet potatoes, strawberries, Ranch Doritos, cucumbers, and chicken. Yummmmmmy.
There's so much more I could tell you about, but I know you humans have such short attention spans.
Be sure when you come to visit my friends at Studio Center to ask for me. I would love some belly rubs from you.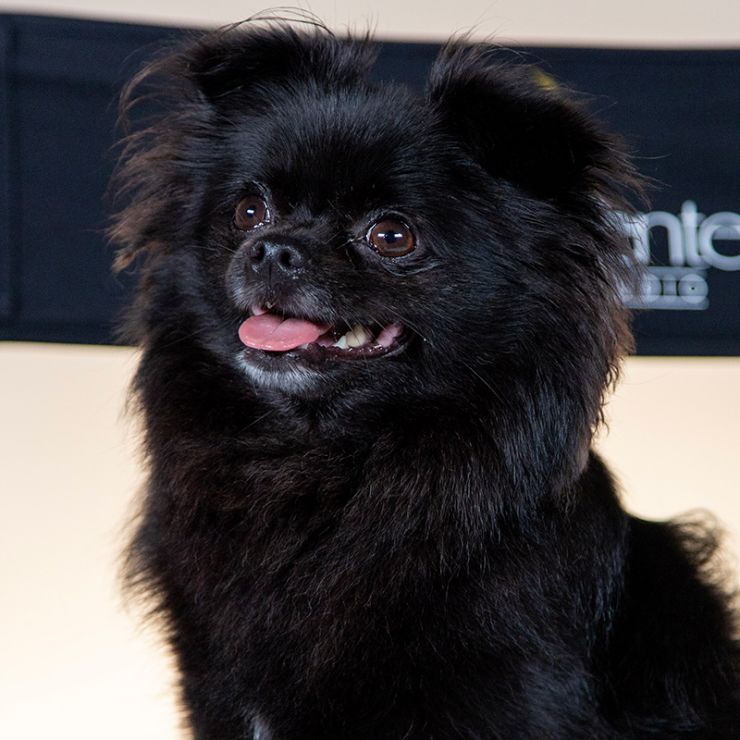 Pearl
Pearl is a PomChi that is a mix between aPomeranian and a Chihuahua; basically, mean and meaner.Pearl is a super Diva. She wants all the attention all the time.She is the Queen of the house and our very tiny but Mighty Guard Dog.Her Favorite thing to do is look out the window and bark at everyone and anything that walks by, She is a Big sister to Sydney and watches over him to make sure he does not get in trouble. She does get mad at him if he tries to steal her spotlight. Her favorite Toy is a pink Flamingo. She has had it since day one.Pearl loves to come to Studio Center so that everyone can tell her how pretty and sweet she is.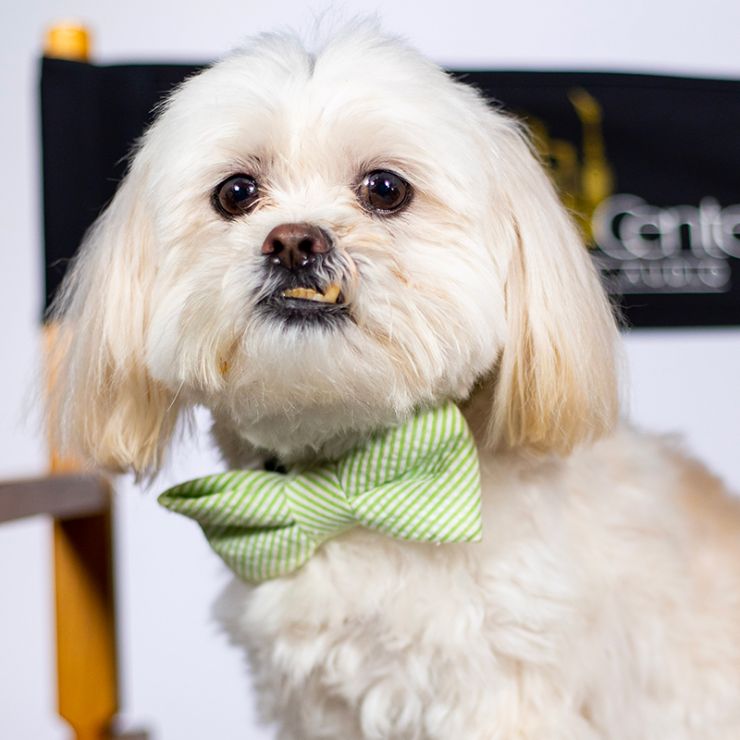 Sully
Sullivan Conway Thompson is a Maltese/Shih Tzu mix born January 26, 2014, he was rescued from a Honey boo-boo family in Conway, SC and now enjoys life on the East coast with his mom in VA eating all the treats he can get his paws on.
Sully has plans to become the Studio Center hair and make-up artist one day and eventually own his own dog Grooming Salon, until then Sully enjoys policing the halls of the Studio Center Video Department and making sure no crumbs are left on the ground and is always happy to chase the Geese out of the Parking lot for clients and staff.
Sully has his certification for emotional support and loves learning new tricks, his favorite is high five! His hobbies include bike rides with his mom, long walks,playing fetch for Hours, singing with his squeaky toys, and styling anyone's hair that will let him.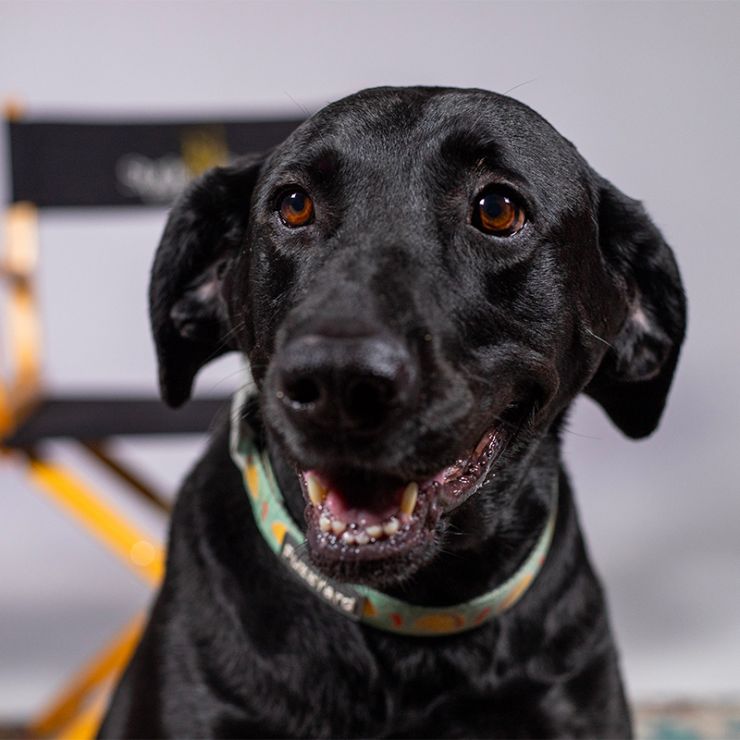 Bella
Isabella Hadid Wildman III or "Bella" wants to live in a world where bacon flows like wine and where humans in need of cuddles instinctively flock like the salmon of Capistrano.
Bella loves being part of the Studio Center family and takes her role as "Betty White" stand-in very seriously, bringing joy and optimism wherever she goes. She has been quoted as often saying, "I live to be in front of the Camera. I may be a senior, but I've still got it!"
As a domestic engineer, with more than 10 years of experience transforming a house into a home she's been honored by rover.com as 3-time laziest dog of the year. Her philosophy is, "Everyone should get at least 14 hours of beauty sleep a day, 18 if you're ugly." In her free time, when she's not sleeping, you can find her staring out the back window at the birds fighting over the scraps of leftover fruit snacks her children left out back the day before.
After the rabid success of her first eLearning series "That Bitch: How to stand your ground at the Dog Park" her next course, "Your 6-year-old and the trouble with Stray Cats" will be released late next month.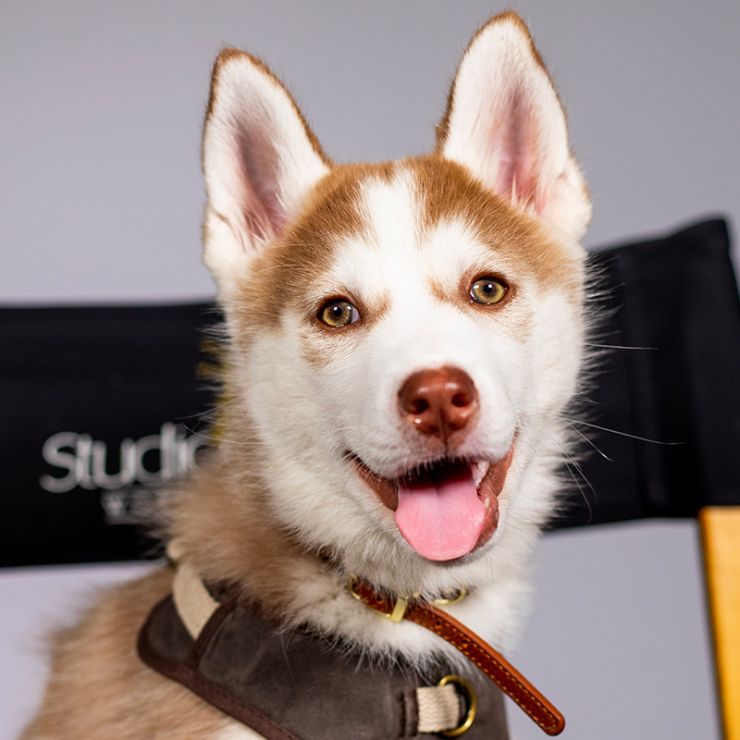 Dani
Dani is a Siberian Husky born on March 11, 2021, in Williamsburg, VA. Full of curiosity and possessing access to a seemingly endless well of energy, she has her paw in a plethora of roles. Dani shows exceptional potential and doesn't feel the need to Pigeonhole herself to any title just yet. She is currently training and hopes to follow in her big sisters' paw steps to graduate top of her class, though she secretly finds no interest in peanut butter bone and nap zone quality control. She thinks K-9 Squirrel Guard has some potential though she gets distracted quickly, unlike her big brother.
Dani enjoys shadowing and learning as much as she possibly can on any given subject. She starts the day with a thousand-and-one questions and loves successfully mastering and executing all the new skills she learns.
Danis' favorite pastime is convincing the other dogs at Studio Center to swap food at lunch... she really knows how to talk her way out of eating the same old puppy kibble.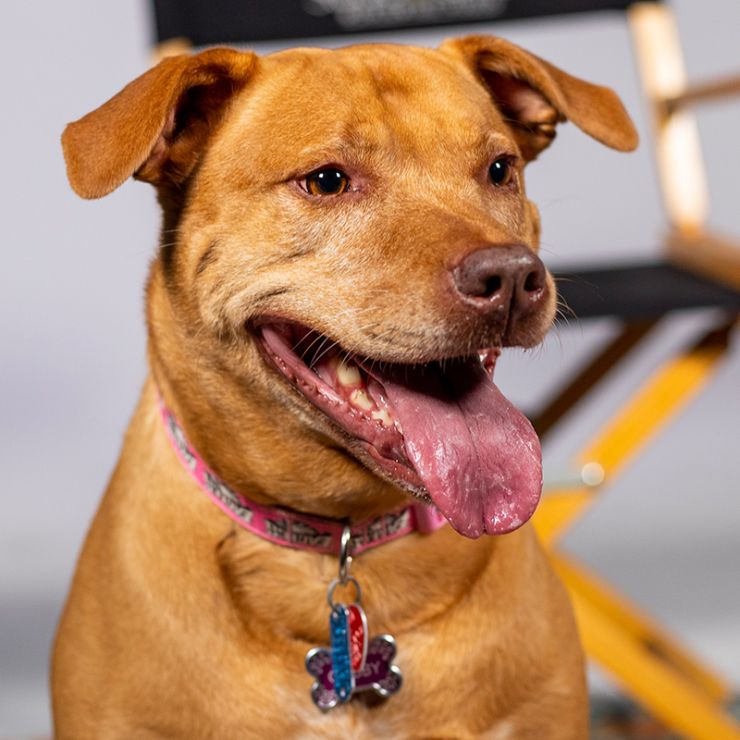 Gabby
Gabby is a very loving 7-year-old Pitbull/Golden Retriever mix.Her mom gave birth to her the day after she was rescued in North Carolina.We brought her home when she was 10 weeks old and weighed 8 lbs. She is kind of a high maintenance princess.She enjoys taking long walks in Town Center when her mom gets home from work.Her favorite thing is her large Nyla bone, don't let her drop it on your foot because it will cut you!Sometimes she is a little naughty and will dig things out of the trash and feel bad about it afterwards. She loves snuggling under the covers with her mom at night and sleeping in on the weekends. At Studio Center, Gabby is at home sitting on her makeshift throne allowing staff to wait on her.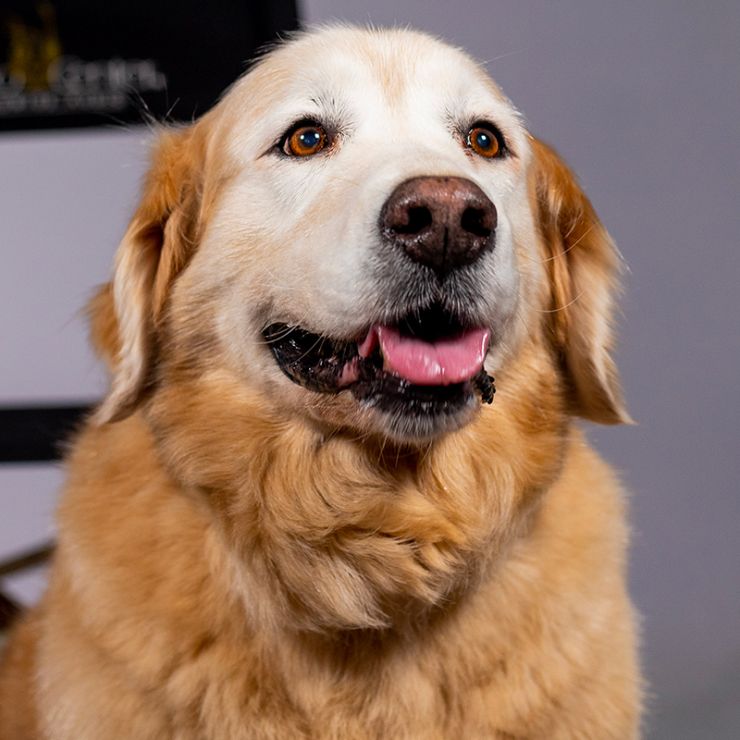 Max
Max is the brother of Annie (pictured above). He is absolutely man's best friend. There is not one person that he has ever not warmed up to immediately. He shares his sister's fondness for treats and any means necessary to get them. Unfortunately he does end up being the fall guy for some of Annie's escapades.
Max is also like a second door bell, only quicker. As soon as he hears someone at the door it's all barking and viciousness until he sees that it's just his owner coming home from work.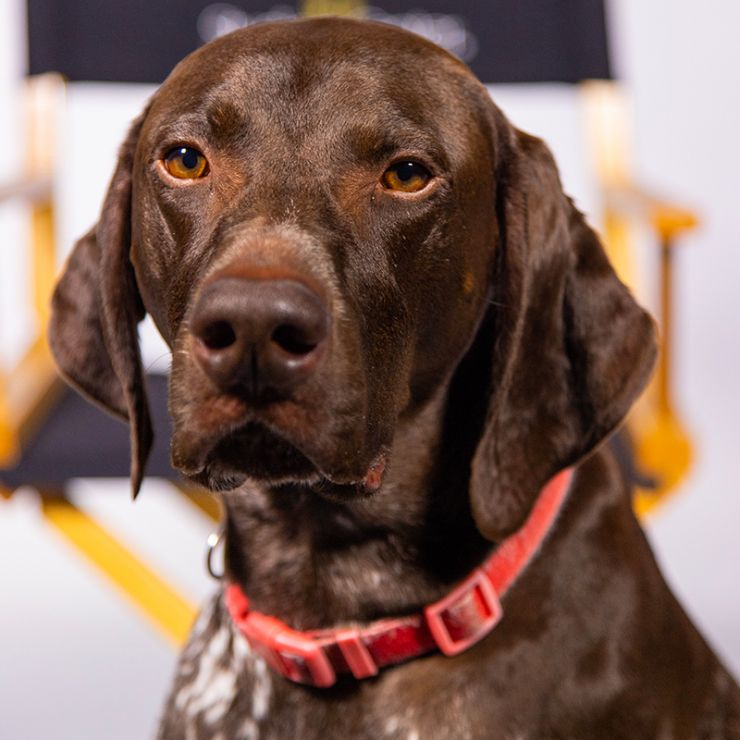 Pungo
Hi, my name is Pungo.I am 5 years old and live in Virginia Beach. My birthday is July 15th. My occupation is the neighborhood greeter.I love people, birds, squirrels, rabbits.I enjoy eating whatever I can find.Digging for worms, running, playing keep away and playing with tennis balls are my part time hobbies.Please don't be alarmed if I am towards you at maximum speed, I only want to say hello and have you pet me.I promise I won't knock you down.When my mommy comes home from work, I am so excited to see her that I like to run right towards her truck, she really hates when I do that.At night I sleep under a blanket, and you may need some earplugs because I do snore a little.
Best of all, even though I am the biggest dog at Studio Center, some say I'm the size of a small pony, I allow the smaller amongst us to be the Alpha Dogs as I think it's good for their egos. What can I say? I'm a team player!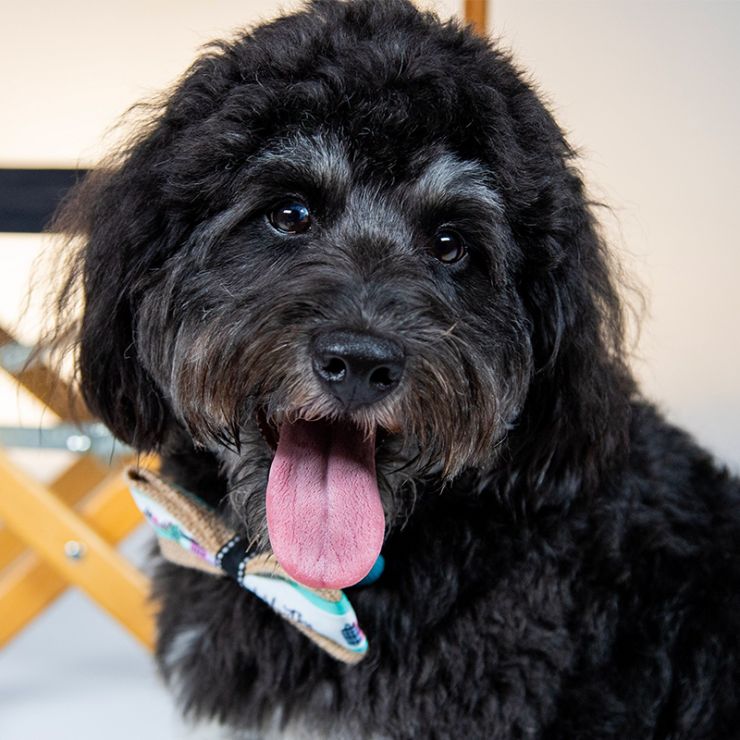 Sydney
Sydney is an AussieDoodle that is a mix between an Australian Shepherd and a Poodle. He is the baby of the house and Pearl's loving little Brother.Sydney loves his Toys and boy does he have a lot of them. Sydney is shy when you first meet him but once he knows you are okay, he will shower you with Love.He loves belly rubs and cuddling. Sydney's favorite things to do are playing catch with the frisbee and following Pearl around. Sydney loves to come to Studio Center so that he can play with all the toys that Auntie Chris has in her office.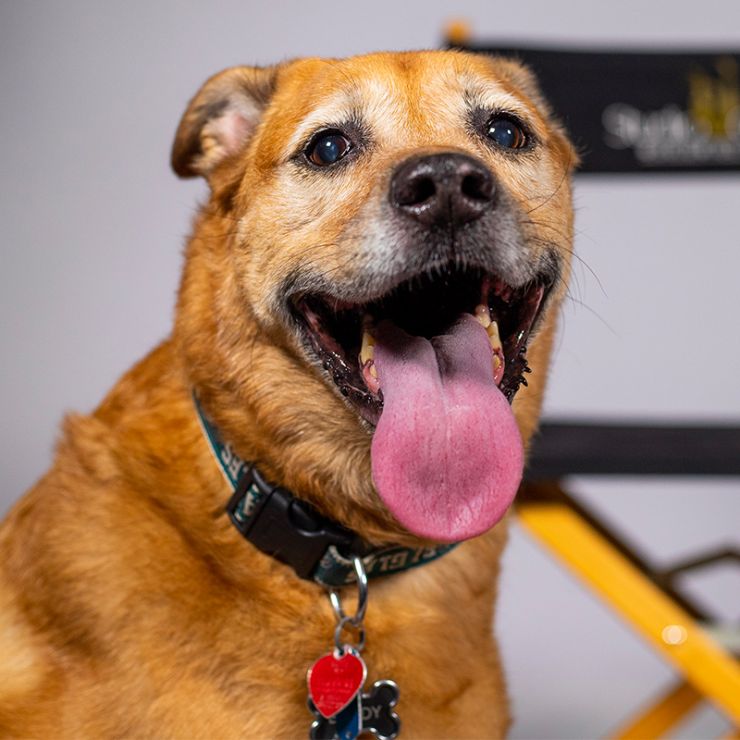 Brody
Brody is a 12-year-old Rhodesian Ridgeback /Boxer mix. His entire liter was saved from a rescue in South Carolina and traveled up to PA.We brought him home when he was 5 lbs and 7 weeks old.He enjoyed going to the baseball field and swimming in the river to fetch sticks by our home in PA.When we moved to Virginia, he was excited to get his baby sister, Gabby.Although he didn't like her in the beginning, they are now inseparable best friends. He might be getting a little grey, old, lumpy, and limps but he still gets super excited to see me walk through the door every night and go for his walk.
Because of Brody's propensity to interrupt meetings, he is only allowed to work half days at Studio Center (with full time pay, of course).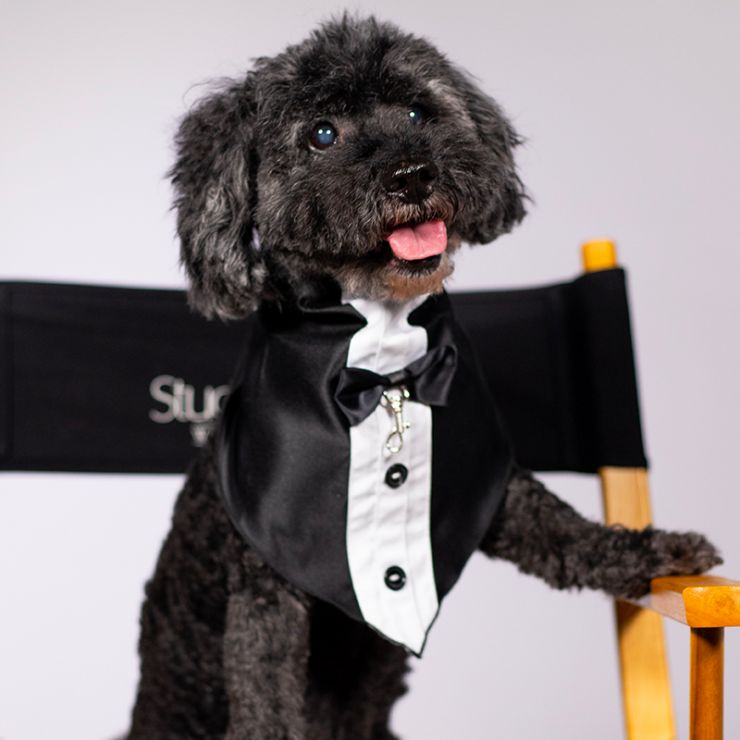 Devo
Hi! My name is Devo!That's Devo "The Male Diva" Elliott, according to my mom, Chrystall. I was born around 17 years ago...not sure when or where, but I can tell you that my life was not as great as it is right now. Wherever I was and whoever those people were, they didn't treat me very well!I didn't eat well, nor did I have nice accommodations. So, I took off again! I was a Dog without a home. Eventually, some strangers found me, and they were "kinda" nice but their homes didn't have a front door or a roof. We lived wherever we could find space. In an old, abandoned car/truck...down somewhere called the "Docks"...sometimes in the bushes...sometimes on the side of the streets. After a while I got tired of being "A dog without a home", so, I ran away again and found a new family but It turned out to be the same thing again. Eventually, I was picked up on the streets of Va. Beach by some really nice people. They wore these really nice clothes that they called uniforms and they were really nice and gentle. They took me to a building that housed a bunch of dogs, cats, rabbits, and I'm not so sure what else but it was different...and warm.
They cleaned me up and fed me and then took me to a room with some really bright lights and a lot of people. They put me on a table and everyone in the room stared at me and began to talk amongst themselves. Finally, I heard the big man in the room say..."He's in really good condition considering what we know of his history, and he's quick too. Have you watched him run??? He's as brisk as the wind!!! I think we should name this little guy "Tasmanian Devil, but we'll call him TAZ for short! Let's prepare him for adoption"!
So, the next thing I knew...I had an exam from my snout to my tail...they clipped my toenails... They gave me a bath...made me smell really good... rubbed the inside of my ears, dried me, and blew hot air on me and they even brushed my teeth ...that tickled!
The next step was that I had to be quarantined for 2 weeks. That was a bummer! Me, myself, and I... all alone in a little cell that was only 2 feet by 2 feet. Good thing I'm a little guy!!
So, after days and days, finally, one of those people in the uniforms came in and scooped me up and said, "Come on little guy, time for the Adoption Fair"!Oh, oh, oh, I was so excited. Finally, they took me to a hospital in Va. Beach called "Blue Pearl".There were all types of Dogs there! Big, Little, really little, and REALLY BIG!And so many people. I sat for a while and waited for someone to come and look at me. They would look, talk to me, walk me around, and see if I could do tricks, but I wasn't interested. So, they just returned me to my people in the uniforms...Then suddenly I saw this "Vision of Loveliness"...and I wondered who she was...I asked myself if she was coming for me. She walked up to my people in uniforms and asked if she could see "Taz"!I got so excited I almost broke my tail! She was nice... she was kind...she was important!!!!! And she wanted me!!!! Yippee! We walked around and she talked to me and told me how she had been looking for me for a while and waiting for me to come out of quarantine so that we could meet!
So, when we returned to the people in uniforms, she asked what she needed to do to take me home! And off we went! Me and my new Mommy! Oh, I forgot to tell you. On the way to the car, she renamed me DEVO! She said I was a male Diva and not a Tasmanian Devil and DEVO was the name of one of her Favorite bands years ago! So, all's well that ends well!!! I'm my mommy's Happy Baby Dog...and Studio Center's resident "Male Diva"!!!!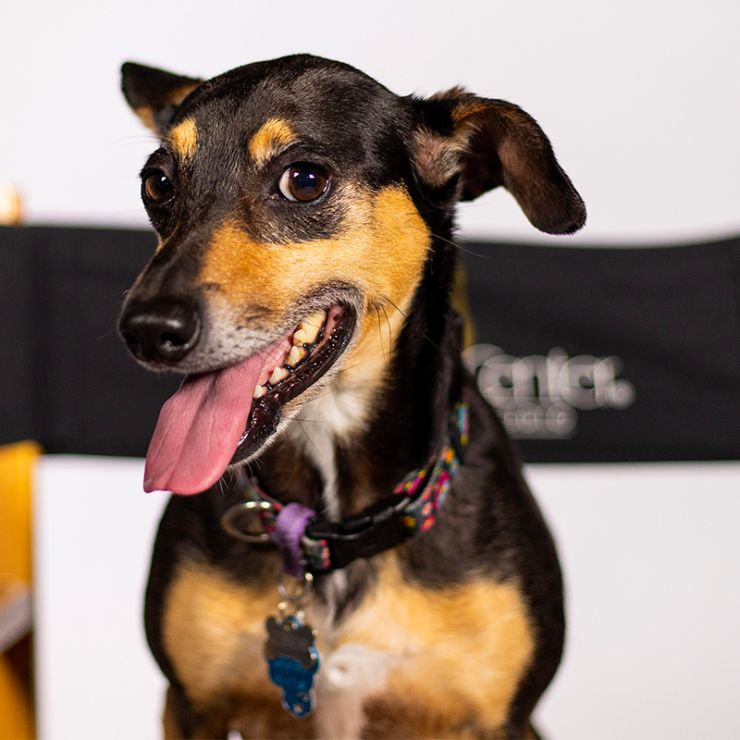 Guiness
Guinness is a 4-year-old Jack Russell Terrier Mix.She is a rescue pup who now proudly resides with her family in Virginia Beach, VA.
At Studio Center her primary responsibilities include perimeter patrol (She is truly passionate about keeping the staff safe), cleaning up food spills and hoarding toys… especially the squeaky ones.
Guinness is a quick learner and a real team player, especially when treats are involved.When you put the ball in her court, she will go the extra mile for you and bring it back, every time with enthusiasm!
In her spare time she enjoys long walks, rolling in the grass, looking out the window for wildlife and afternoon naps in the sunshine.
She is also a sucker for a good neck scratching.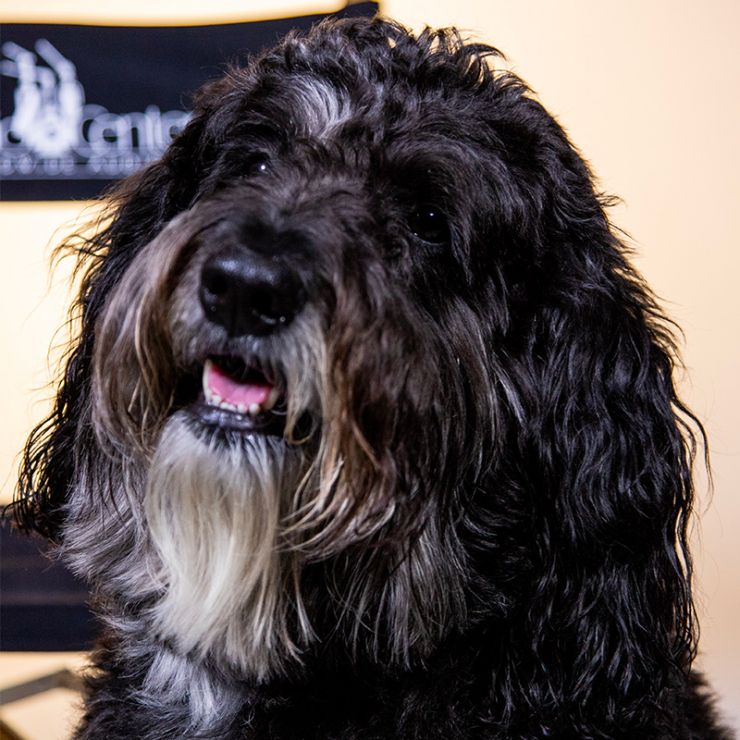 Ozzie
Ozzie was born in Richmond, Virginia and has been at Studio Center for three years in our "Employee Happiness" Department.He specializes in receiving unlimited affection, celebrating his new toys (then destroying them), and barking at new people.Before Studio Center, Ozzie had extensive experience in sniffing and licking.When not at work, he likes to ride anywhere in cars, chase squirrels, ride on the front of boats, bark at fish and take long walks with his family.He resides in Virginia Beach with his parents and four (two hairy ones) siblings.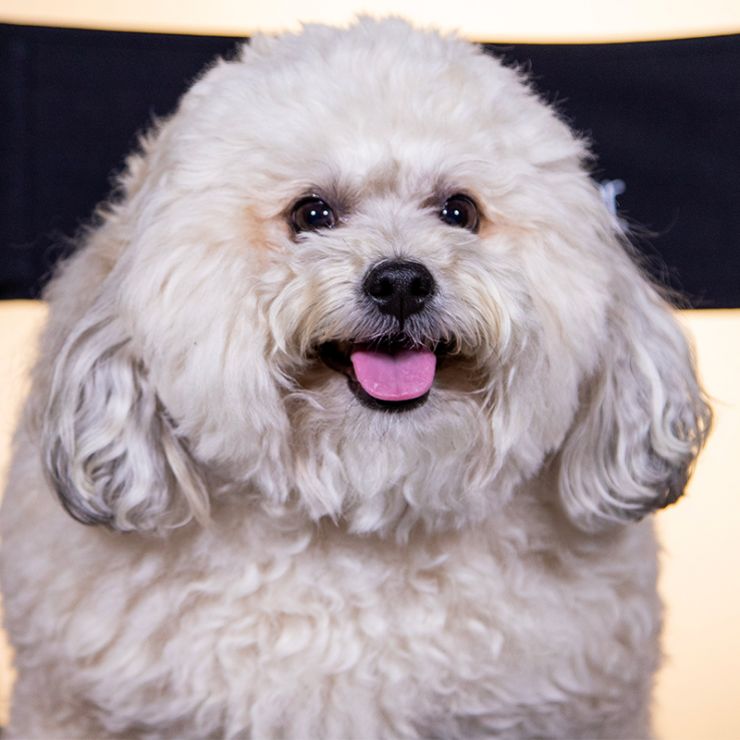 Rocky
Rocky was born in St. Louis, Missouri and started at Studio Center six years ago in its "Lap Warming" Department.He specializes in begging for doggie treats, giving friends and family his paw, sitting on laps, looking cute and couch naps.Before coming to Studio Center, Rocky peed on carpets and ran away from his parents.When not working, Rocky loves to binge eat Pup-Peroni Dog Snacks (the doctors say he "has a bit of weight problem"), snuggle, play with his brothers, and sleep on beds.He resides in Virginia Beach with his parents and four (two hairy ones) siblings.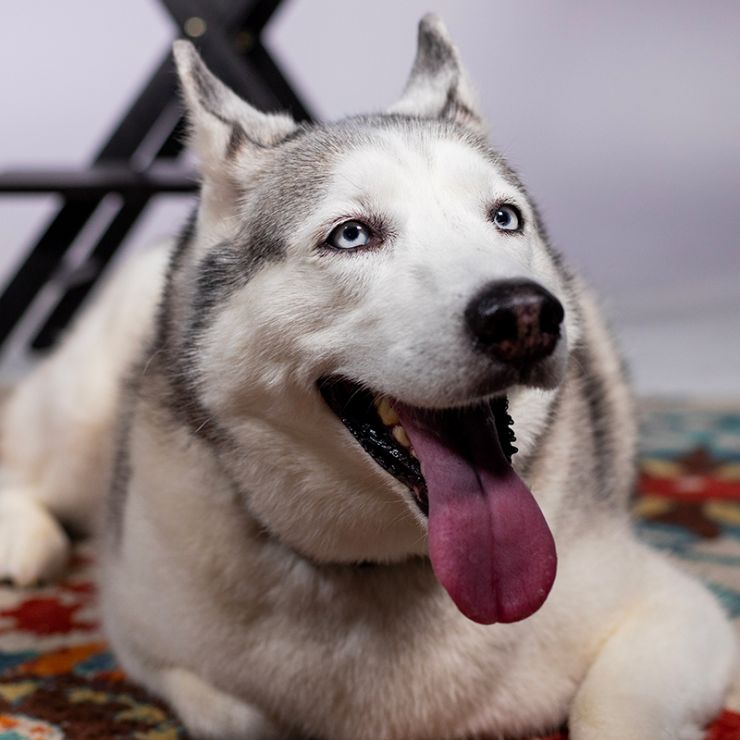 Tsuki
Tsuki is a Siberian Husky born on October 21, 2014, in VA Beach, VA. Don't let her laidback and chill demeanor fool you. Tsuki's objective is to maintain order. As head of quality control at Studio Center, she inspects each peanut butter bone that enters our doors. Though she has never once come across a potentially tampered with peanut butter bone, she takes great pride in ensuring the safety of the office.
Tsuki also ensures all designated napping zones are up to code. She finds doing so to be the most fulfilling of her duties. If you ask nicely, she might be willing to let you in on the best napping spots around the office. At the end of a long day, she finds pleasure in returning all toys to their proper place, Chris' office.
Tsuki would hang "love is a four-legged word" signs in every office if given a chance. She has also considered starting a change.org petition to make WFB (work from beach) a mandatory option for all VB employees city-wide.