SENATOR KIGGANS
WELCOME SENATOR KIGGANS!
It was great meeting with you last week! We've been producing Political Advertising and delivering results under budget for 50 years! With 30 rooms, an exclusive in house roster of award winning talent and 10 full time casting directors, we are always available for you. Give us a call and let's get busy! Below you'll find a few examples of our political work as well as some of our latest paid digital marketing and media.
WHy studio center
-BLAZING Fast Turn Around! Hours NOT days!
-24/7 Availability for ALL Services!
-10 Full Time Casting Directors on Call for YOU!
-15 On Staff Copy Writers Available 24/7!
-Over 1000 EXCLUSIVE Voices you won't hear on everyone else's spots!
-30 Full-Time Award-Winning Engineers, Editors, Designers and Creative Directors on staff!
-34 FULL TIME Audio and Video Suites ready to go! No waiting, shopping or trying to line up Freelancers
-HUGE Roster of Foreign Voices AND 80 Certified Translators – We do it all!
-52 Years of Political Production Experience. We get it!
OUR POLITICAL VIDEO REEL
This sizzle reel is jam packed with some of the political videos we ideated, produced and delivered. Go full screen and enjoy!
Our political radio reel
Listen to some of our political radio commercials that we wrote, casted and produced – all in house!
ANNE FERRELL TATA CAMPAIGN

Branding & Logo Design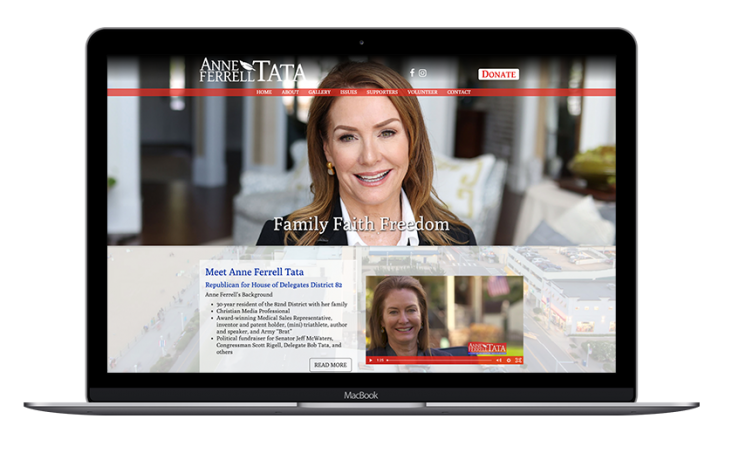 Website Design & Development
PAID DIGITAL MARKETING & MEDIA